Pricing & Ordering Information
What's the quot for a championship ring?
Our championship ring starting at $185.00, and we offer FREE SHIPPING to all countries.
Can I get a discount if I purchase multiple rings?
Yes, we offer quantity discounts. Please visit our discount information page or email us for a quote and let us know how many copies you will need. The discount level will increase with the quantity ordered.
How long does it take to process, ship and receive an order? What is the shipping fee?
Generally, we ship your order within 10 days, but if you require name and/or inside engraving on the ring, it will take about 15 days to complete the job. For full Custom Championship Ring, please allow 4-6 weeks for the production.
We offer free shipping, you may get your ring within 3 days after shipped with our express shipping service.
Material & Plating, What's the difference between copper and silver?
Copper - Safe, strong and stable. Cooper ring is coated by white gold(rhodium) or yellow gold finish, the ring you see is the ring you will get by this option.
Silver - Heavier, more expensive, most popular jewelry material. Since the entire ring is made by silver, so it is silver color finish by default, if you would like the ring to coated by yellow gold/white gold plating finish, please tell us on comment section.
Gold - Most expensive, we make gold ring entire gold and solid, NOT JUST GOLD PLATED OR HOLLOW LIKE OTHERS. The finished ring is about 60g in weight.
How does custom name and number work?
The rings come with the name and number as the pictures shown on our website by default, this option allow you to add your name and number to replace the default name and number on the side of the ring.

Please note that some original rings don't have number on them, to keep the original design, we won't add custom number for those rings either. Below is a sample to help you understand the custom name and number easily.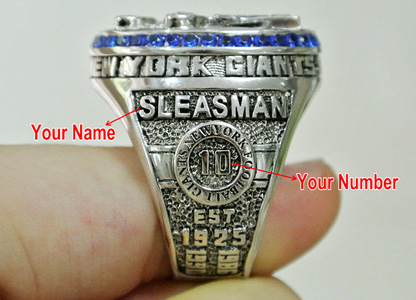 What is Inside Engraving? Where would that be exactly?
This option can help you add some letters on internal of the ring.

How to Find My Ring Size?
1. Cut a strip of paper or a piece of string. The paper strip should be approximately 1/2" wide, and 5" long.

2. Wrap the paper or string around the finger to be sized. Slide the paper or string up to the knuckle, as the ring must be sized large enough to able to slip off and on, over the knuckle.

3. Use a pen to mark the string or paper where the long end overlaps.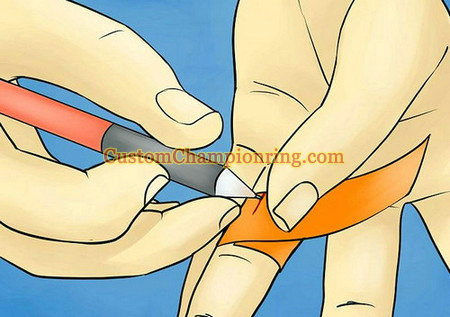 4. Measure the mark from the end of the length of paper or string with a ruler. Use the metric side for more accurate sizing.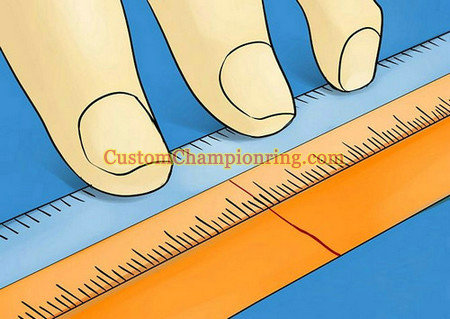 5. Locate your ring size by locating your measurement on our conversion chart below. If the measurement falls in between two sizes, it is recommended that you choose the larger size.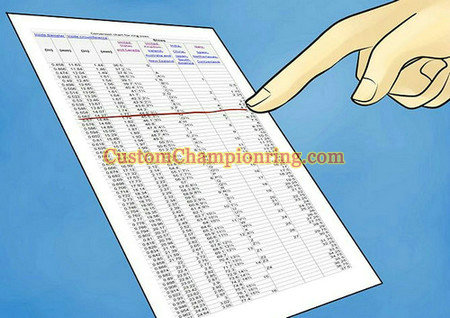 Conversion chart for ring sizes
Inside diameter
Inside circumference
Sizes
(in)
(mm)
(in)
(mm)
0.65
16.51
2.04
51.9
6
0.666
16.92
2.09
53.1
6.5
0.682
17.32
2.14
54.4
7
0.698
17.73
2.19
55.7
7.5
0.714
18.14
2.24
57
8
0.73
18.54
2.29
58.3
8.5
0.746
18.95
2.34
59.5
9
0.762
19.35
2.39
60.8
9.5
0.778
19.76
2.44
62.1
10
0.794
20.17
2.49
63.4
10.5
0.81
20.57
2.54
64.6
11
0.826
20.98
2.59
65.9
11.5
0.842
21.39
2.65
67.2
12
0.858
21.79
2.7
68.5
12.5
0.874
22.2
2.75
69.7
13
0.89
22.61
2.8
71
13.5
0.906
23.01
2.85
72.3
14
0.922
23.42
2.9
73.6
14.5
0.938
23.83
2.95
74.8
15
0.954
24.23
3
76.1
15.5
0.97
24.64
3.05
77.4
16
What methods of payment do you accept?
We accept VISA, MASTER Card and WESTERN UNION.
How does CustomChampionshipRing.net protect my information?
Orders placed with CustomChampionshipRing.net are made using a secure server, on a secure page. The secure server (SSL) encrypts your information before sending to CustomChampionshipRing.net. Please review our Privacy Policy for more information.